I know we just finished Halloween and we haven't even gotten to Thanksgiving yet, but that doesn't mean we aren't thinking about Christmas yet! For me, being a lover of the color red, when I think of Christmas, candy canes always pop into my head right away. This year I have created a new Christmas design called Christmas Candy Canes and Vines.
My usually color pallet is a bold, bright array of tropical colors filled with shades of pink, coral and teal. In the past Christmas hasn't stopped me from using that same color pallet. I have never really been known to be one to stick to the rules when it comes to my art. But this year I thought I would do something a little different for me. Yes, I followed the rules and stuck to the traditional red and green colors.
This year we are going back to the traditional red and green. With our green Christmas tree, it is going to be loaded with tons of red ribbons among the ornaments and of course a load of candy canes to grab when you walk by.
Christmas Candy Canes and Vines
Christmas Candy Canes and Vines is a delightful illustration that features five beautiful red and white candy canes is various sizes. Each candy cane is wrapped in swirling vines of green leaves as if they are growing from field of green grass giving the lovely design a tradition Christmas color palette. The candy canes are over a soft blue watercolor wash background and surrounded by a double red line border.
I have created a variety of Christmas products using this design and they can be found in my Debi Payne Designs Zazzle store. It's not too late to order your cards and receive them in time to send out before Christmas to your friends and family.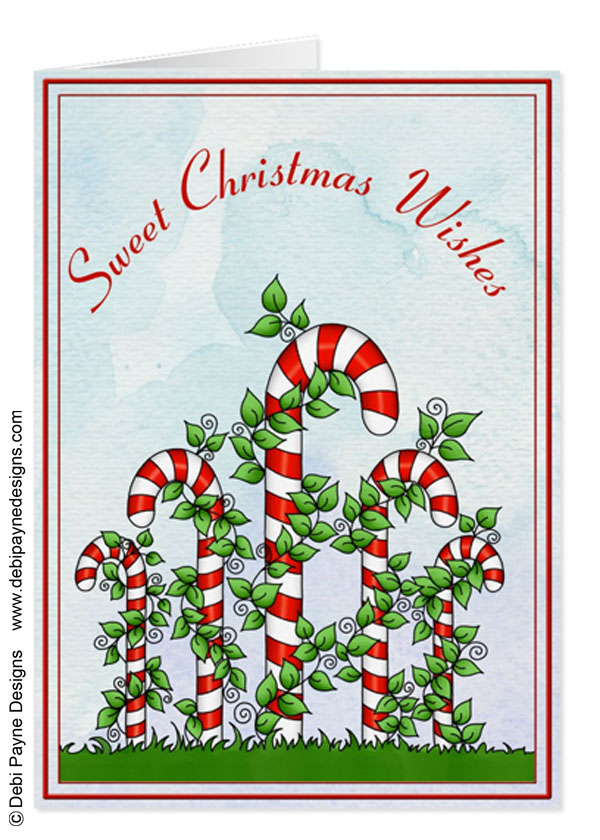 Click here or on the image below to see all the products in this collection.
I hope you have a wonderful time as we all start to deck our halls with Christmas joy.
Enjoy!
Debi