The past several months I have been designing and creating Mini Scrapbook Albums. This month I have a sweet little niece, Ava, that is turning 9 years old. I made her a special mini album, not so much for photos, but more for a book of positive sayings that she can read when she needs a little boost of positivity, (as we all need from time to time.)
In this book I created all the papers and designs using my colorful, whimsical doodle flowers and hand-lettered sayings. Here is a video flip-through of the album:
This turned out to be a really fun inter-active album complete with a special keepsake box to keep it in.
Reminders for a Life Time
I am always coming up with and writing little reminders to myself to help me stay positive.  Over the years my collection of reminders has grown larger and larger.  I designed this book to help Ava grow her own collection of reminders for herself.
On the back of each of the ephemera cards I have added a mixed media lined paper so that she can write her own reminders.
Page Inserts
Each page has a large insert which I designed for even more reminders to be added.
On the front side of the insert there are color blocks in various sizes for both long and short reminders.  The back side is one large sheet of lined paper where she can write a long story of something special that she wants to remember.
Pockets
Throughout the book I have added a lot of pockets (including the inside front and back covers of the album).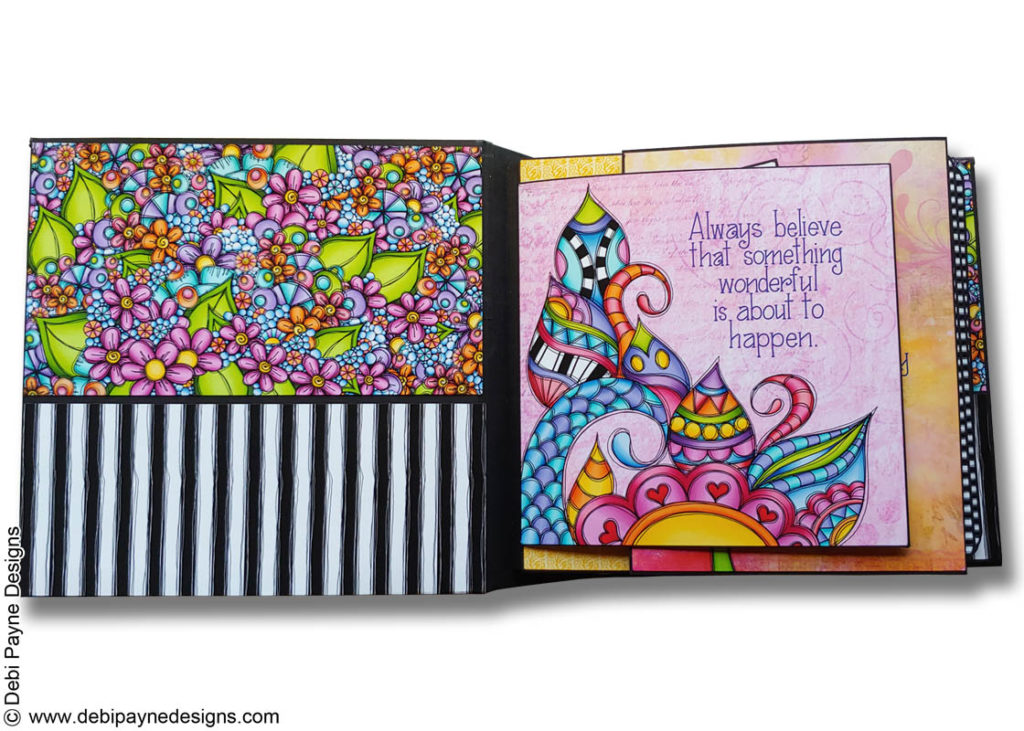 In these pockets Ava will be able to add any other memories or reminders that she wants to add.
My hope is that Ava will continue to add to this book throughout her entire life.  Although she is turning 9 right now, I think it would be wonderful for her to add to it throughout her life and see what it looks like when she is 90.  What a treasure it will be for her children and grandchildren.
Create Your Own Little Reminders Album
After I finished making Ava's album, I collected all the papers that I used and I created Ephemera Cards so that others can make their own album. I am making all these papers available as downloads in my Etsy Store.
I have broken it down into three downloads.  The first is the "Little Reminders Main Papers".  These papers are all the main accent design papers found throughout the book.
The second is the "Little Reminders Mixed Media and Pattern Papers."  This collection consists of all the mixed media papers along with the color coordinating patter papers.
The third download is the "Ephemera Cards" Collection.  In this collection there are 24 cards featuring a Debi Payne Designs Doodle Flower with a hand-lettered saying.
For those that want the entire Little Reminders set, I have made it simple and put all three into oneundle.  With the bundle you will receive a total of 24 – 8"x 8" downloadable papers and 24 – 4"x 6" Ephemera Cards.
To see the papers and cards in my Etsy store, clickhere.
I hope you have enjoyed look at Ava's Little Reminders and I hope it has inspired you to create a Little Reminder album for yourself!