I'm pretty sure that by now, if you have been following Debi Payne Designs for any time, you have probably run across my Tropical Showbirds. (Yes, those are my cute little whimsical tropical birds.) Well I am excited to announce that I have turned the birds into a digital, downloadable scrapbook paper collection.
Before I talk about the paper collection, I would like to give you a little background on how I came up with the collection name, "Tropical Showbirds".  Through the progression of drawing and then painting the birds I fell in love with the colors of the feathers and how festive they were.  Then the birds started to remind me of showgirls with all their beautiful and bright colors and of course feathers.  That is when in my mind the birds changed from Tropical Birds to Tropical Showbirds!
Mini Scrapbook Album
After creating the papers, I then created a Mini Scrapbook Album.
The album is 8"x 8" and it turned out very white, which I actually loved in the end. With all the bright colors of the papers the white gave the overall book a very light, clean feel.
Let's take a tour of the book.
Insert Cover & Page 1
Pages 2 & 3
Pages 4 & 5
Pages 6 & 7
Page 8 & Inside Back Cover
Outside Back Cover & Insert Page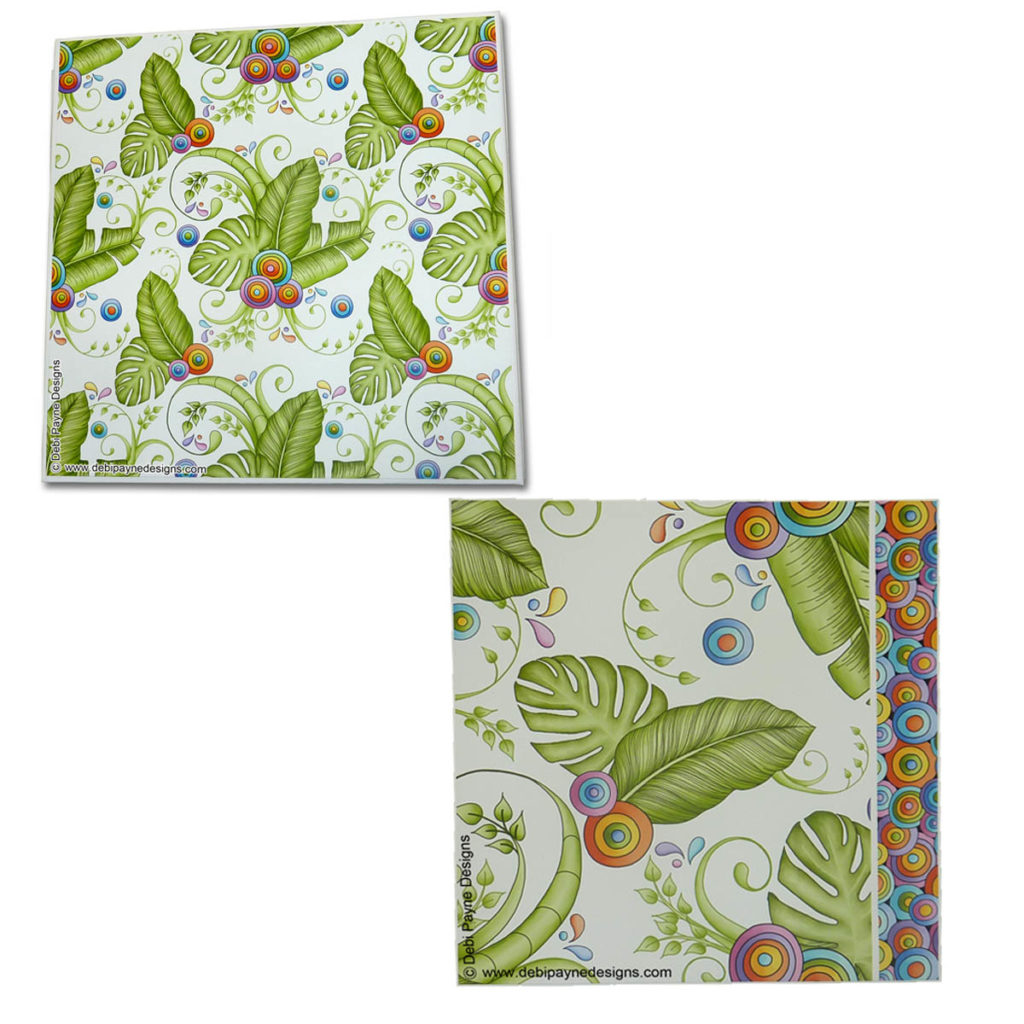 Hopefully these photos have given you a quick overview of some of the great papers that are in this collection.
The paper collection is now available in my Etsy store.  The collection is available is birds, patterns, ephemera cards or altogether as a bundle.
This paper collection is all downloadable so that immediately following your purchase you are able to download the PDF's and print the papers from your home printer.
Also, as a bonus when you purchase the bundle, I have also included 5 borders and an 8"x 8" front cover image.
In the photos you will notice that all the insert cards are cards with the different birds and no text. In the collection I have added hand lettered positive saying to all the cards which will add inspiration and motivation to your project.
If you would like to see all the scrapbooking papers in my Etsy store, click here.
If you make an album using the Tropical Showbirds, I would love to see photos of your finished project.
Happy Scrapping!
Debi
PS: If you would like to read about the other scrapbook paper collections that I have, check out the following blog post: